It's that time of year again! We will be hosting the Celebration of the Outdoors on Saturday, October 21st, 2017. The event will take place from 10:00 a.m. to 3:00 p.m. on that day. If you'd like to say you're attending the event please sign up here keep note that signing up is not required to attend!
Events will include the following: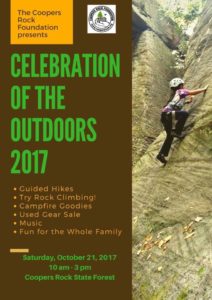 Disc golf
Fall bird walk
Campfire snacks and cider
Climbing demos
Used gear sale
Live music at the overlook
Guided hikes
Birdhouse Building
and Pumpkin painting!
We hope to see everyone there having fun!
Weather Forecast (courtesy of weather.com)